Green Address Bar
When you are visiting Equitable's website or online banking, you will notice the green encrypted address bar or green text with the padlock icon. These features are part of an Extended Validation SSL (EV SSL) Certificate that assures visitors they are visiting The Equitable Bank's official website and not being redirected to a fraudulent site posing as the bank. This Extended Validation identification process requires the bank to prove exclusive rights to use a domain. It also confirms its legal, operational and physical existence; and proves the entity has authorized the issuance of the Certificate. When you visit our website, always look for the green bar or text.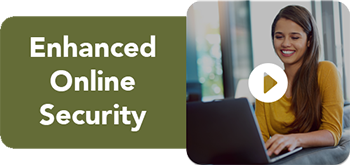 Identity Theft
Identity theft is one of the fastest-growing crimes. You can help protect yourself by following a few important steps.
Never give your personal information over the phone, through the mail or over the internet. Only do so if you have initiated the contact or are certain you know who you are dealing with.
Change passwords often and always choose a strong password. Strong passwords are typically long (12 characters is the current recommendation) and contain both numbers and symbols. They should not reference common words or use a string of keys on the keyboard.
Use a different username and password combinations on different websites, especially those that provide access to financial or other confidential personal information.
If you are not sure that a contact is valid, contact the company yourself - either by phone, in person or online. Visit the company's website by typing in the web address yourself. Be cautious when using search engines to find a web page. Double-check the address of where you are being directed.
Do not have your Personal Identification Numbers (PINs) on hand - memorize them and keep them in a safe, secure location.
Make sure all online purchases are from a credible store. Check reviews and monitor your account. Also, for better protection - pay with a credit card.
Review account statements routinely to make certain that all charges are legitimate. If your statement is delayed in arriving, call your financial institute to find out why. Take advantage of Online Banking to review activity online and identify any suspicious activity. Also, sign up for
Account Alerts through online banking.
Review your credit report on an annual basis.
Tear or shred all personal financial documents that you no longer need.
Keep your Social Security card in a safe place and only give out the number when necessary.
Never leave your laptop, tablet PC, or cell phone unattended.
Make sure to use a password for startup on your computer, tablet, cell phone and other like devices.
Social Engineering Scams
Social engineering scams can be done over the phone, text, email, paper or even done face-to-face. To protect yourself, stay aware of what type of scams are out there and keep personal information private.
Account Takeover - Criminals can gain control of a victim's bank account by stealing the victim's online banking credentials, most commonly through malware.
Baiting - This is when something of value is used to entice a victim to click a web link, which may then infect the user's system with malware.
Email Account Takeover - Scammers can hack into accounts and take over your email account. If you receive an email that seems out of place or suspicious, contact the account's owner through a different form of communication to confirm it is them or to make them aware of the takeover.
Fake Checks - Scammers search newspapers and online advertisements for items for sale or needing employment. The scammers then send the victim a fraudulent check over the listed price. This check is either from an account that is not their own or a check that is no good and then requests for the victim to send them a check for the difference. Just because a check has funds available does not mean that the check has cleared.
Fraudulent Emails - These emails are intended to look like they are coming from people or places you know when they are either fake contacts or contacts you have whose accounts have been taken over.
Malware - Malicious software like viruses, spyware, and Trojans, intended to steal your personal information or obtain access to your system.
Phishing - When an email directs a customer to click a web link and tries to deceive the user into submitting login credentials or other personal information.
SMSishing - Scammer takes on a false identity through texting in an attempt to scam the user into surrendering private information that will be used for identity theft. The text will usually request the user to call a number or click to access a web page.
Spam - Junk mail that can have links or attachments that can deliver malware, phishing or other threats.
Spoofing - When false information is given to you to look like something else (ex: caller ID looks like a contact other than who it is or a link that directs you somewhere other than intended).
Vishing - Scammers take on a false identity on the telephone in an attempt to scam the user into surrendering private information that will be used for identity theft.
ATM Skimming
ATM skimmers are essentially card readers that grab the data off of the card's magnetic stripe. These skimmers are attached to the real ATMs so criminals can gather data from cards used at that terminal. Most ATM skimmers are small and fit over the existing card reader. Many times a hidden camera is also placed somewhere in the vicinity with a view of the number pad to record PINs. To protect yourself from ATM Skimming you should:
Check for tampering of the machine -Are there multiple materials and colors? Do things look out of place? A card reader placed over a legitimate card reader may obscure lights, arrows or other visual indicators. If the keyboard feels too thick, a PIN-snatching overlay may be installed.
Be cautious when using an ATM - Make sure that you are covering the PIN-pad with your free hand when entering your PIN.
Look for anything on the machine that is loose or out of place.

If something does not feel right about the machine, do not use it and contact the bank or local authorities. If you think that you have been a victim of an ATM skimmer, report it to the bank immediately.
If you have any questions about these or other financial security concerns, please contact us at (414) 475-1690.