Online Banking
24-hour account access of all your real-time account activity and up to the minute statements. Check balances, pay bills, download into Quicken® or QuickBooks®, view check images and quickly move money between your accounts or set-up regular transfers between savings and checking account, or make payments on your loan account.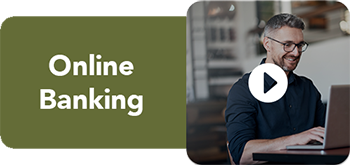 Bill Pay
Paying your bills is just a click away. Add Bill Pay to your Online Banking service to pay bills quickly, conveniently and securely. Make payments to just about anyone by scheduling one-time or recurring payments. Log on to Online Banking to register for Bill Pay.
With Online Bill Payment you can:
Make payments online to almost any individual or company in the United States.
Set up bills to be received electronically.
Make recurring payments such as your mortgage or auto payment that do not vary in amount.
Schedule payments up to one year in advance.
Set up bill reminders you can receive via email or online.
View pending and recent payments and up to six months of payment history.
Pay bills through Mobile Banking
Account Alerts
Customize your account alerts so you get notifications that are important to you. Personalizing your alerts allows you to know what you want to know, how often you want to know it and how you want to be notified, providing you with extra peace of mind.
Account Alert Details:
Choose what you want to be alerted about

Account transaction and balance information
Check status updates
Credit, debit and Electronic Funds Transfer details
Fee and hold information
Loan activity and payment information

Where you receive alerts

Mobile devices, email addresses, online

How you receive alerts

Email, text, push notification

When to receive alerts

You can indicate quiet times
Online Statements
Online Statements have the same look and function as paper statements. You can also save them on your computer, print them at home, even send them to your accountant electronically for easy record keeping. They are also a great way to go green. Less paper means less waste and a better environment. Sign in to Online Banking to sign up or call Customer Service at 414.475.1690.
Mobile Banking
With Mobile Banking from The Equitable Bank, you always have your accounts right at your fingertips. Now you can view account balances, transfer funds, pay bills, or find the closest ATM wherever you are, whenever you need to. It is an easy, convenient and safe way to keep on top of your finances at all times. If you are already enrolled in Online Banking, simply sign in and go to the Options Menu to activate Mobile Banking.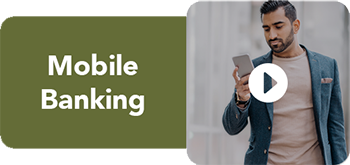 Mobile Banking FAQs
What is Mobile Banking?

With Mobile Banking from The Equitable Bank, you can be sure that your banking activities are with you at all times. You can securely access your Equitable accounts from your mobile device to check account balances, pay bills, transfer funds, find your nearest branch or locate an ATM and more. Add Mobile Deposit and you can deposit checks into your checking account at any time, from anywhere.

What are the differences between the Mobile App, Mobile Web and Text Banking?

Mobile App – Equitable Bank customers with an Android Phone or iPhone can download the Mobile App. The app is built specifically for those types of devices and offers the best mobile banking experience. Mobile App users can:

Check Balances
View Transactions
Deposit Checks with Mobile Deposit
Pay Bills
Make Transfers
Account Alerts
Locate ATMs and Equitable Branches

Mobile Web – Designed for Equitable Bank customers using a mobile phone with a web browser. Mobile Web users can:

Check Balances
View Transactions
Pay Bills
Make Transfers
Account Alerts
Locate ATMs and Equitable Branches

Text Banking – Any Equitable Bank customer with a text-enabled phone will be able to use text messaging codes to:

Check Balances
View Transactions
Account Alerts
Locate ATMs and Equitable Branches

Why should I use Mobile Banking?

The real-time convenience of Mobile Banking just cannot be matched by anything else. Think about all your situations where it can come in handy:

When you're at the electronics store, and you see that big screen HDTV you just have to buy – play it safe and make a quick check on your account balance and make sure you have enough money before you purchase.
How many times do you find yourself simply waiting around? If you're waiting at the DMV or waiting at the airport for your flight – this would be a great time to get in tune with your spending habits by checking and reviewing your transaction history.
Suppose a relative sends you a check for your birthday, but you're not planning a trip to the bank anytime soon. By using the Mobile Deposit feature of the Mobile App, you can simply take a photo of the check for deposit into your checking account.
When you're on vacation, out traveling, or simply have no computer access, you might have a bill you forgot to pay from home or a bill that is due very soon. Don't cut it close. Ensure that you're never late on any of your bills by making a quick and easy bill payment from your phone.
Going out this Friday night and realize you'll need some cash? Find the nearest ATM from wherever you are, which just might be a block away.

How does Mobile Deposit work?

Mobile Deposit is very simple to use. Learn about Mobile Deposit.

Is there any cost for Mobile Banking?

The Equitable Bank does not charge for Mobile Banking – one more reason to use Mobile Banking from The Equitable Bank. Please note that message and data rates may apply. Check with your mobile service provider for details.

How can I get Mobile Banking?

It's really easy to get Mobile Banking. Here is what you will need:

An active username and password to log into Equitable's Online Banking.
A smartphone (iOS, Android, BlackBerry), a web-enabled device (mobile browser) or standard mobile device with text capabilities

I downloaded the Mobile App and it's asking for a code.

After you have downloaded the Mobile Application you will need to enter the following code: GoMobile1219. Once you enter the code you can continue with the application activation.

Is my mobile device secure to use? I feel secure with my computer. I like to use my computer for my banking activities and I am concerned about using my phone.

Rest assured. Mobile is safe to use!

Smartphones such as iPhones, Android and Blackberry have a very controlled and secure operating system.
Mobile Banking uses 128 bit SSL encryption just like Online Banking – which encrypts and protects any transmission of data including customer account information.
Mobile Banking uses strong firewalls just like Online Banking – which protects from unauthorized or malicious intrusion.
Mobile Banking uses your Access ID and password for access, just like Online Banking. And just like with Online Banking, your account will lockdown after a certain number of incorrect attempts from your mobile device.
Mobile banking uses additional Security Q&A authentication for initial access to your account.

What if my phone gets lost or stolen?

Call your mobile service provider to report that your phone is missing. While nobody wants their phone lost or stolen, if it does happen, know that your mobile banking access is secured.

No personal information from your Mobile Banking account is ever stored on the phone. Your password is never stored.
Your login session automatically times out after a specific period of inactivity.
Mobile Deposit
Save yourself a trip to the bank. With Mobile Deposit, you can deposit checks into your checking account with just a few clicks of your mobile device -- from any place in the world, at any time of the day.
Making a deposit is as easy as these simple steps:
To get started, log in to the Mobile App, then click on the Deposits tab.
To deposit a check, select New Deposit.
Enter the amount of the check you are depositing, then click Continue.
When prompted, take a photo of the front of the check, followed by a photo of the back. You will have a chance to review the photos and retake them if necessary.
You will then be asked to confirm the deposit before submitting it to the bank for approval.
You can verify your deposit was made by checking the History in the Mobile App.
Tips for success:
Be sure to endorse (sign) the back of your check before using Mobile Deposit.
When taking photos of the front and back of the check, be sure you capture all four corners of the check in the photo.
Always keep your paper check until the funds from the deposit appear in your account.
If you have multiple checks to deposit, you will need to enter the amount of each check individually, and then take photos of each check by itself.
If you have multiple checking accounts, you will have to select which account should receive the deposit.
You can check the status of previous deposits by going to the Deposits tab and then selecting View Deposit History.
CardValet
®
Get the mobile app that lets you control debit card usage and spending on the go.
CardValet
®

lets you:
Turn your debit card on and off.
Establish transaction controls for dollar amount limits, merchant categories, and geographic locations.
Receive alerts when your debit card is used, approved or exceeds the transaction controls set by you.
Stay informed of potential fraud with alerts on attempted, declined transactions.
Get real-time balances for your accounts.
Download the CardValet® App
Popmoney®
Send, request and receive money with just about anyone online or through your mobile device. Popmoney® is that easy!
What can you use it for?
Popmoney® is easy and convenient.
Send money to your college student
Send a gift to family and friends
Collect money for the coach's gift
Pay your babysitter
Pay your dog walker or lawn care service
Request the rent money from your roommate
Pay businesses without a card reader
Start using Popmoney® today!
Just sign in to Online Banking, click on Bill Pay and then Click on Popmoney®.