Debit Cards
Our MasterCard branded debit card allows you to make purchases just about anywhere with the funds automatically deducted from your account.
Need to activate your debit card?
Need to report a lost or stolen card?
Traveling out of the country?

To ensure your security, notify our customer service at 414.475.1690.
The Equitable Bank's MasterCard debit cards now include EMV chip technology.
Benefits of EMV Chip Card Technology:
More Secure – The chip adds another layer of security to cards when used with a chip card reader terminal. When you use your new chip card, the chip generates a unique transaction code that makes it more difficult to copy information from your card.
Easy to Use – When using a chip card at the chip card reader, you will be asked to insert your card into the terminal with the chip facing up. Follow the prompts on the screen. Enter your PIN or sign for your purchase, depending on the type of transaction. Then remove the card when instructed. It's that easy!
Chip cards still have magnetic stripes so you will still be able to use your card at traditional credit card terminals.
Accepted Everywhere – While chip card technology may be new to the U.S., it has already been in use around the world in Europe, Mexico, Canada, Asia, and South America. Travel with confidence, knowing that your new chip card will be accepted.
No Cost – The Equitable Bank has reissued cards to customers at no cost and all new cards are EMV chip cards.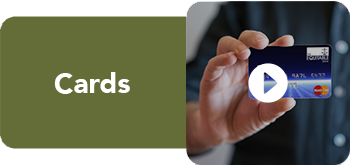 CardValet
®
Get the mobile app that lets you control debit card usage and spending on the go.
Overdraft Protection
Save yourself the hassle and fees involved with an overdraft by signing up for Equitable's Overdraft Protection. Link your checking account to another Equitable checking or savings account and we will use the funds from the linked account to cover any transactions that might have otherwise overdrawn your account.
Check Reorder
Do you need to reorder checks?
Consumer Credit Cards
Choosing the right credit card is easier than ever. Whether you want to pay down balances faster, maximize cash back, earn rewards or begin building your credit history, we have the ideal card for you!
No matter which card you choose, you'll enjoy important features like:
Convenient and Flexible Purchasing Power. Accepted at millions of locations worldwide.
Mobile purchasing capability for added convenience.
Zero Fraud Liability.* You won't be liable for fraudulent purchases when your card is lost or stolen.
Cardmember Service available 24 hours a day/365 days per year.
Plus much more!
Learn More About Equitable's Credit Cards
*Elan Financial Services provides zero fraud liability for unauthorized transactions. Cardholder must notify Elan Financial Services promptly of any unauthorized use. Certain conditions and limitations may apply. The creditor and issuer of these cards is Elan Financial Services, pursuant to separate licenses from Visa U.S.A. Inc., and Mastercard International Incorporated. Mastercard is a registered trademark, and the circles design is a trademark of Mastercard International Incorporated.
Switch to Equitable
Are you ready to make The Equitable Bank your bank of choice? We want to make it easy for you!
The Equitable Bank SwitchKit contains a series of easy to follow steps, along with the necessary forms to fill out and mail to all respective parties to transfer funds, direct deposits, and automatic payments from your old account(s) to your Equitable Bank account.
Get Started
The Equitable Access Line
414.777.5288 | 888.518.6115
How to Use the Access Line
You will hear a list of options available to you. To obtain account information or conduct account transactions, PRESS 1, for specific account information. After selecting from the options below you will be prompted to enter your account and PIN numbers.
| | |
| --- | --- |
| PRESS 1 | Account information |
| PRESS 2 | To transfer funds |
| PRESS 3 | To report your ATM or Debit Card lost or stolen |
| PRESS 4 | If you are a merchant calling to verify a customer's check |
| PRESS 5 | For branch locations and hours |
| PRESS 6 | To change your personal identification number (PIN) |
| PRESS 9 | To listen to the menu again |
| PRESS 0 | To speak to a customer service representative |
Refer-A-Friend
Tell a friend to open any Equitable Bank Checking Account with direct deposit or debit card and you will receive a Free $50 Gift Card!*
Your friend will love the personal service at The Equitable Bank, plus:
Online Banking
Online Statements
Mobile Banking
Mobile Deposit
Online Bill Payment
Popmoney®
Free Debit Card with Access to over 24,000+ Surcharge-Free ATMs
CardValet®
Competitive interest rate on most accounts
Convenient Lobby and Drive-Up times

Follow the link below, fill out the form and when your friend opens a checking account with a direct deposit or a debit card, you will be awarded a $50 Gift Card.
Privacy Notice for New Customer Applicants: By applying to open an account under this referral offer, you consent to The Equitable Bank disclosing to the person who referred you, that you have or have not become an Equitable Bank customer.
Privacy Notice for Existing Customer: By providing your referral to potential Equitable Bank customers, you consent to The Equitable Bank disclosing to the person(s) you referred, that you are an Equitable Bank customer.